Truck
Bed Liners
When you choose to spray Bullet Liner on your truck, your investment is not only safe but tested in very extreme conditions. Bullet Liner has been used and tested on race and chase vehicles in the prestigious Baja 1000 and in subzero conditions only found in the wilderness of Alaska.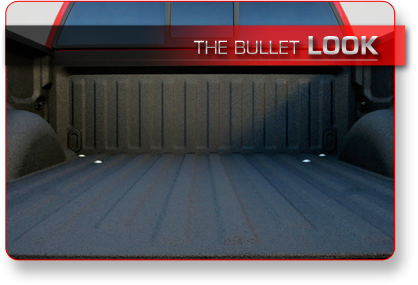 Bullet Liner protects critical components on vehicles to survive impacts from rocks, debris and extreme use only found in these types of terrains.
The Bullet Liner® Difference
Bullet Liner's high tensile strength material provides a superior layer of protection our competitors cannot match. Using a high pressure system, to achieve this unique strength, distinguishes our product from other bed liner companies.
Other spray-on bed liner companies use a low pressure system that produces a softer bed liner that often is more susceptible to material failure resulting in gouging or even tears.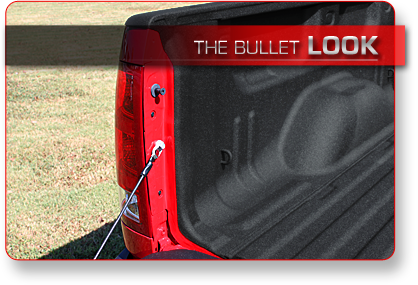 The Bullet Look
Bullet Liner prides itself on using higher quality raw materials to produce a fine grain texture that does not "clump" or "sag" on vertical surface. Bullet Liner looks as if it came pre-installed from the vehicle manufacture.
Bullet Liner® Coverage
Bullet Liner provides a permanent bond that conforms to every contour of your truck bed. This bond creates a barrier from moisture, rust and corrosion for the lifetime of your vehicle. Bullet Liner is resistant to most chemicals making it a superior material for use in industrial applications.
Installation
We will apply a protective masking to ensure that your vehicle is protected from any bed liner overspray. Once that protection is installed, we proceed with the actual material spray coating:
The area to be installed is sanded thoroughly

An adhesive primer is applied

Only then is the actual spray bed liner installed

The masking is then removed

Although the product dries immediately, we recommend a
24 hour "Curing" time
Take Your Best Shot!
Here is why you want to use Bullet Liner on your vehicle:
Excellent gloss retention

Molds perfectly to your vehicle

E

n

d

l

e

s

s

v

a

r

i

e

t

y

o

f

c

o

l

o

r

s

Bullet Liner of Hiram would be happy to answer all your questions and provide you with a free Quote tailored for your truck or project. Call us at: (770) 222-2218 or use our confidential Contact Form.